Who are we?
Expat Center East Netherlands is part of the World Trade Center Twente with the main goal to support companies in the east of the Netherlands when they hire highly skilled internationals. We also make sure that the international relocation will go as smooth as possible so that the expat will have an enjoyable time in the Netherlands and will be your employee for a long time.
We are based in the WTC in Hengelo and work for our clients in the whole province of Overijssel (and a part of the Achterhoek) with focus on Twente, Deventer and Zwolle.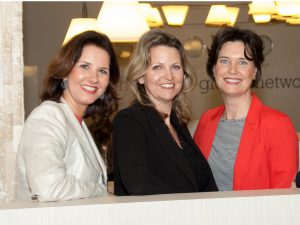 Our team will go to great length to offer you personalised service, so do contact us if you have questions about our services.  Cornelieke Harreman, Manon Vierdag and Michelle Ekkelkamp  (f.l.t.r) are more than happy to inform you.
How can we serve you?
Hire a highly skilled migrant in 4 steps with the help of the Expat Center team. Let us take matters out of your hands with our practical services which makes the whole process more easy:
During these steps the Expat Center is the Central point of information for both employer and expat through our websites and personal advise.
Our partners
Companies who want to work with highly skilled migrants can become a Corporate Partner of the Expat Center. With an annual fee they support the social events we organise for their international employees and can freely use our service of central information point. An extra benefit is the discount our Corporate Partners receive on our services. Do you want to learn more? Contact Michelle Ekkelkamp by email m.ekkelkamp@ecen.nl for more information.
Our Corporate Partners
Apollo Tyres R&D, Bruco Integrated Circuits, Demcon, Foseco Vesuvius, Malvern Panalytical, Micronit Microtechnoligies, Saxion Hogeschool, Thales, NX Filtration, Toray Advanced Composites, Universal Electronics, Universiteit Twente, Movella.
Our service partners
Together with our service partners we can offer you a wide range of services. We work with reliable and experienced partners in housing, recruitment, Dutch and English language- and cultural training and financial & legal advise. The Expat Center gladly forwards you to one of these specialists.
Other partners
The Expat Center also plays an important role in the discussions on regional themes like talent and international business climate. For this we work closely together with Twente Board Development, International School Twente, Novel-T, OostNL and are financially supported by the province of Overijssel.
Important partners are the Immigration&Naturalisation Service (IND) and the 6 municipalities connected to our Welcome Center: Almelo, Borne, Enschede, Hengelo, Hof van Twente and Oldenzaal.
Want to know more?
Do you want to learn more about our services for your HR manager and expats, becoming Corporate Partner or our service partners? Contact us for a personal meeting where we gladly explain more.