Upcoming events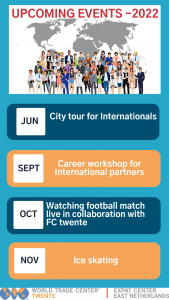 We are happy to announce the following events for your international employees which are a wonderful mix of practical en fun gatherings; great opportunities to get together, make new friends and learn a little about the Twente region.
Apart from these special events we'll also keep on hosting the monthly Expat Meet & Greet at Cafe Fellini.
** The Enschede City Tour in June gives a nice impression of the city center of Enschede; history, unknown stories and includes coffee/tea afterwards,
** The career workshop will give you practical tips&tricks when looking for a job. Are you here with your (working) partner, than this is meant for you,
** In cooperation with football club FC Twente, we'll go watch a match in Enschede and cheer for the local team !
** Ice skating on natural ice is becoming more and more a rare activity, but skating on the ice skating rink in Enschede is a great alternative. Learn skating during the lesson and have a drink and snack afterwards.
Details of all these events will follow, so keep an eye on our socials en your inbox for the detailed invitation.
We are looking forward seeing your colleagues at one of these events !